So, it's been a while! But I'm back and better then ever with my weekend eats! Now you'll get to follow along with my eating on the weekend AND my wedding planning! LOL
What does a dietitian eat? Healthy foods all the time? NO! Organic foods daily? NO! Super small portions? Nope! Dietitians are just like you! We have food days that are super healthy (fruits and veggies at every meal, lean proteins, alcohol free and no sweets!) and we have days that are not as healthy (think chocolate, beer and nachos). Check out my weekly weekend roundup posts so you can see what my weekend eats are all about!
Friday
Breakfast: Friday morning, I headed to the gym for a workout and made a delicious smoothie to start off my day. It's super easy to make and easy to take with you. I was running out the door to get to a Leadership Conference for the Greater New York Dietetic Association in Binghamton, NY. Interested in making this smoothie? Visit my instagram! I have it saved under my stories!
Lunch: Lunch was amazing! When we arrived at the conference, we were immediately served lunch! I chose some amazing salmon, grilled zucchini and squash, roasted potatoes and a side of salad. YUM! I also had half of a delicious cookie!
Snack: Snack was a small bowl of yogurt with strawberries and granola.
Dinner: Dinner was a mix of everything! We had a little cocktail hour/networking event after the day was over and I filled my plate up with veggies, cheese, hummus and pita bread. The food was amazing! I also had a glass of champagne with mango puree. After that we headed over to another event and I had some grilled chicken and shrimp. Finally, we stopped at a speakeasy, which was super cute! We hung out for a while and I had a beer.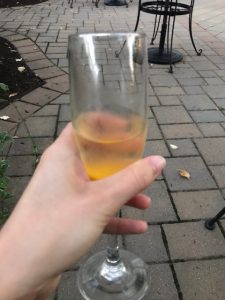 Saturday
Breakfast: We were still at the conference on Saturday. I started my day off with a Kashi Go Lean Crunch cereal with milk, topped with strawberries. I wasn't super hungry since I wasn't able to exercise that morning.
Snack: For snack they had more crackers, pita and hummus and veggies out. I chose the pickled carrots – which were literally amazing – and some hummus and crackers and pita. I had to leave the conference early to head to a wedding, so I knew I was going to miss lunch as a result. I had a larger snack to hold me over until the wedding cocktail hour.
Dinner: Dinner started at cocktail hour, where I tried an array of things. I had some of my favorite everything bagel crackers, hummus, scallops wrapped in bacon, mini grilled cheese and fig sandwiches, mini lobster rolls and some pulled pork. My meal consisted of amazing mashed sweet potatoes, roasted carrots and the most delicious short rib I've ever eaten.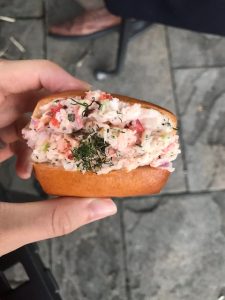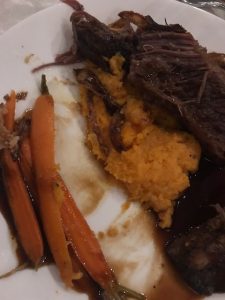 And here's a pic of me and my bestie at the wedding!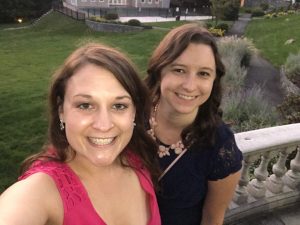 Dessert: Dessert was a small assortment of gelato in a chocolate sugar cone cup. I had the chocolate and caramel gelato and some of the cup.
Sunday
Breakfast: Sunday morning I got up early to exercise and head to Long Island for a day of DRESS SHOPPING! On the way out I grabbed a egg white, turkey bacon english muffin sandwich and a large cold brew from Starbucks.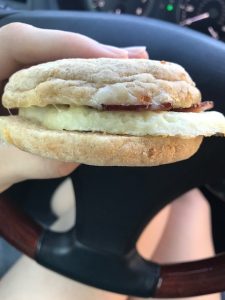 Lunch: Lunch was a delicious salad from La Bottega in my hometown. It had roasted red peppers, mushrooms, mozzarella cheese and sunflower seeds. I used their balasamic dressing to top it off. Then we headed to look at some dresses – nothing has been found yet, though!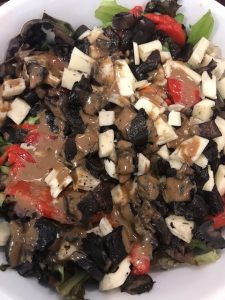 Dinner: Dinner was at Palmer's American Grill, also in my hometown. I split their amazing Sweet Potato Gnocchi and Pork Tenderloin with Bernie. Both were so good, but we couldn't finish them all so we took about half home. I also had a beer with dinner.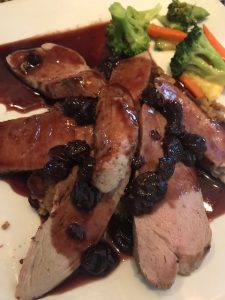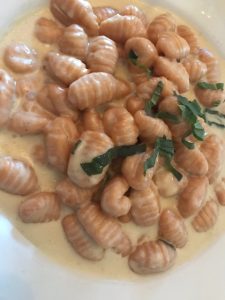 Dessert: Dessert was a hot chocolate with whipped cream from Charlottes that really hit the spot!