I've been eating strawberries like it's my job lately, so I decided to make a salad and add those babies to it!  I love filling my salads with delicious toppings.  This keeps my tastebuds happy and helps me feel satisfied until my next meal.
For this salad, I used spring mix as the base, because that tends to be my favorite salad base.  Feel free to use your fave leafy green as the base if you're not a spring mix fan.  I love adding quinoa to salads to make them a big heartier.  Anytime I see a quinoa salad at a restaurant, I HAVE to get it.  When you're chowing down on this salad, you'll notice that the sweetness of the strawberries mixes so well with the creaminess of the feta cheese and avocado and the chopped walnuts add a nice crunch.
I enjoy this salad with Ken's Balsamic with Honey Dressing, because balsamic just goes sooo well with strawberries, but you can feel free to dress it up however you like!
Strawberry Quinoa Salad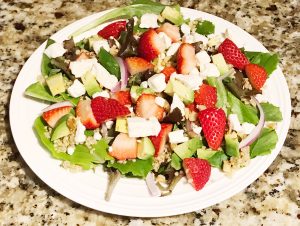 Servings: 1
Ingredients
2 cups spring mix
1/2 cup strawberries, chopped
1/4 cup low fat feta cheese
2 tablespoons red onion
2 tablespoon walnuts, chopped
1/4 cup quinoa, cooked
1/4 avocado, chopped
Directions
Add all ingredients to plate
Top with dressing of choice
Enjoy!
Nutrition Facts:
Calories: 343; Fat: 21.26 g; Saturated fat: 3.7 g; Cholesterol: 10 mg; Sodium: 374 mg; Carb: 31 g; Fiber: 10.6 g; Sugars: 7.5 g; Protein: 12.7 g
Don't forget to check out these other delicious meatless recipes from some amazing dietitians below!
Meri, of Real Living Nutrition Services, shared her Winter Quinoa Kale and Pear Salad.  With sweet pears, creamy goat cheese, delicious kale, quinoa and crunchy walnuts, this salad is sure to please!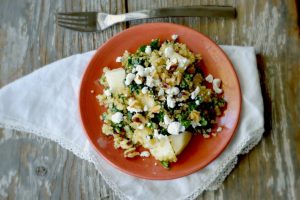 Danielle, of The Every Kitchen, shared her Green Papaya Salad with Shrimp.  If you haven't tried papaya yet, this is the salad for you!  Delicious papaya paired with shrimp and roasted peanuts as your proteins and some traditional Thai flavors.  Yum!
Amanda, of Nutritionist Reviews, shared her Greek Chopped Salad with Roasted Chickpeas.  This lunch is super easy to make and adds a boost of vitamins, minerals, protein and fiber to your lunch!
Stacie and Jessica, of The Real Food Dietitians, shared their Greek Quinoa Salad.  This gluten-free salad is made with creamy feta, veggies and healthy fats.  Plus they use delicious avocado oil and lemon juice as the dressing!
Natalie, of Nutrition A La Natalie, shared her Chickpea Salad Sandwich with Sweet Apple Slaw.  A vegetarian twist on a tuna salad, this sandwich is chock full of fiber, vitamins, protein, antioxidants, minerals and healthy fats.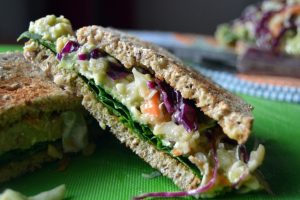 Lauren, of Nutri Savvy Health, shared her Eggplant and Squash Tacos with Miso Kale Slaw.  This delicious twist on tacos features grated hard boiled eggs as the protein and baked eggplant as the shell.  Yum!