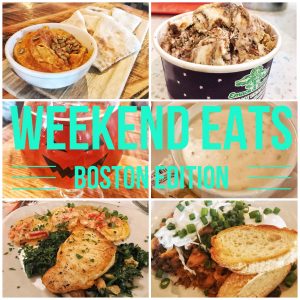 After a short hiatus, the first fall edition of Weekend Eats is back and it's a BOSTON edition! What does a dietitian eat?  Healthy foods all the time?  NO!  Organic foods daily?  NO!  Super small portions?  Nope!  Dietitians are just like you!  We have food days that are super healthy (fruits and veggies at every meal, lean proteins, alcohol free and no sweets!) and we have days that are not as healthy (think chocolate, beer and nachos).  Check out my weekly weekend roundup posts so you can see what my weekend eats are all about!
Friday
Breakfast: Friday morning I started off the day with a 5-mile run and a short lifting workout. After this, I was in a rush to get to an early doctor appointment, so my breakfast was a quick mint chocolate chip LaraBar because I knew I would be having lunch shortly after and I needed something to hold me over that would re-fuel me after my workout, but not be too large.
Lunch:  Bernie and I left for Boston on Friday afternoon, so for lunch we whipped up some turkey and cheese sandwiches that we could eat on the way. We used whole wheat sandwich thins, ultra-thin pepper jack cheese slices, turkey and spicy brown mustard.  I also had a macha iced latte on the side – my new fave!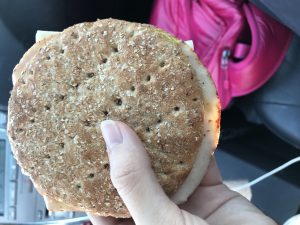 Snack:  Bernie got some car snacks for the ride. He picked up some Honey BBQ fritos, which are, honestly, one of our favorite car snacks.  As I've talked about before, sometimes having snacks, that are not as nutritious for me, around in large quantities, gives me a little too much temptation and I tend to eat more then the recommended serving size at a time. To avoid this, Bernie purchased the snack size and we both only had a few throughout the ride. I knew we were going to have an amazing dinner, so I didn't want to eat too large of a snack so I wouldn't be super full by the end of the night.
Dinner: Dinner was INCREDIBLE. Bernie was all about trying seafood in Boston, so we went to an amazing place recommended to us by another dietitian friend called Atlantic Fish Co. I CANNOT recommend this place enough!!! The food AND service was awesome. Bernie and I both got drinks – I got a beer (Sam Adams Oktoberfest) and he got a dirty martini and had some of the bread delivered to the table. The bread was warm and crispy on the outside and soft on the inside – SO. GOOD. I started off with a cup of New England Clam Chowder – a childhood favorite of mine. I can't even tell you how yummy it was!! Then, for dinner, I had their Pan-Seared Sea Bass that also came with spinach and lobster raviolis – this was easily some of the BEST seafood I have had in a LONG TIME. Bernie had grilled swordfish with roasted brussies (and bacon!) and mashed potatoes. OMG – the brussies were to die for.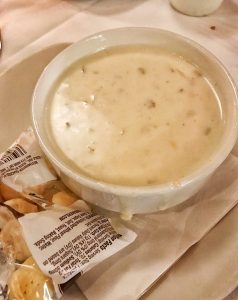 Dessert: After dinner, we decided to take a short walk around that area of the city and stumbled upon Emack and Bolio's ice cream, which, according to the sign outside, is "The Original Boston Ice Cream Experience." As ice cream lovers, we knew we had to try it and it did not disappoint. I had a scoop of the Stoney's Dream – vanilla ice cream with brownies, chocolate chip cookies and a fudge swirl. This really topped off an incredible night of Boston eats!
Saturday
Breakfast:  Saturday got off to a bit of a late start due to some AIRBNB issues we had the night before, needing to find a hotel in the middle of the night and not getting to bed until 2 AM. I woke up, did a quick 40 minute HIIT workout on the treadmill at the hotel and got ready for the day. After finding another hotel to crash at for the night, we drove over, checked in, parked the car and headed out on the town! We wanted to do the Freedom Trail (2.5 mile walk around Boston to see most of the historical sites), so we hopped on the bus into downtown Boston and grabbed a quick breakfast at a coffee shop. We split an everything bagel with egg and cheddar cheese and I had a coffee from the hotel and we were on our way!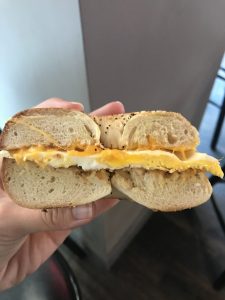 Lunch: We got a little too into sight seeing and skipped right over lunch! We wanted to do a duck tour and were going to grab something to eat on the ride, but when we got to the Science Museum, tickets for the rest of the tours that day were sold out.  So, we decided to head to Harpoon Brewery (one of my favorite breweries) instead.  We got two of their amazing salted pretzels with beer cheese and brown mustard – SO GOOD. We also got two beers each while we waited to take a tour of their brewery. The tour was awesome! We learned all about Harpoon and even some of the science of how to make beer. We also go to try a whole bunch of their beers that they have on tap – for $5 it was definitely worth it!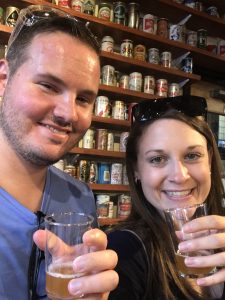 Dinner:  After the brewery, we headed back to the hotel room to take short rest, which turned into a little bit of a nap (whoops). We headed back out around 7:30 PM to grab some dinner and walk around Boston. First, we headed to the Lawn on D to get some pictures in the glowing swings – We even met someone on line who was from Long Island and named Lauren! What a small world. We wanted to go to the Oyster House for dinner, but the wait was 2 hours – and we were starving! So, we headed down the street to Salty Dog instead. We split a cup of NE Clam Chowder, some muscles and a lobster roll. I really loved the chowder and muscles. However, I have to say, lobster rolls are not for me. Bernie had been wanting to try one the whole trip, so we decided to split it at dinner. I also had never had one, so I thought it would be good to try them since they are ALL OVER Boston. I just wasn't that into having a lobster with mayo all over it. Oh well, you never know what you like until you try it!
Dessert: For dessert, we stopped at the Ghiridelli shop and got some amazing ice cream. The mint chocolate chip really hit the spot.
Sunday
Brunch:  On Sunday, I got up with the sun and ran along the Charles River. It was, BEAUTIFUL.  After that, I headed back to the hotel, ate some yogurt with cheerios, got ready, packed up our stuff and we started the day at Fenway Park. I did this tour about 10 years ago, but it was really cool to do it again, especially since Bernie is such a sports fan. The stadium is awesome and has so much history – I really recommend taking a tour if you come to Boston! Did you know that they have a garden in their stadium?! They started it in 2015, grow about 5,000 pounds of produce a year and harvest the produce and sell it throughout the park. So cool! After the tour, we headed to City Tap, a brunch spot our friend Will recommended. Now, if you know me at all, you know I love brunch and I LOVE pumpkin things. This place could not have been more perfect! They had an awesome pumpkin filled menu AND so many pumpkin beers on tap! And, to top it off, they were actually tapping a 400 pound pumpkin and giving out the beer in cute glasses. Of course, we both got one and now we have super cute glasses as souvenirs! We started off with the pumpkin hummus, which did not disappoint and then I had the Pork and Sweet Potato Hash and OMG, it was INCREDIBLE!!!!! I cannot recommend this place more. AMAZING.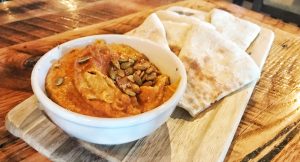 Lunch and Dinner:  After the brunch, we headed to the Duck Tour – which was super fun and relaxing! We got to see more of the city and learn a bunch about their history! After the tour, we headed home. We stopped halfway in Massachusetts to watch the first half of the Packer game and I had some French Onion Soup. I was still feeling super stuffed from brunch.
So, there you have it, a recap of an amazing, food filled, weekend in Boston and a weekend full of dietitian's eats!