Confession time!  Even as a dietitian, I'm not always as creative as I would like to be when it comes to meat-free meals for lunch at work.  My go to lunch, as you know, is a turkey sandwich, but now that Lent has started, I need some new options for Fridays.  I do like a tunafish sandwich, but that definitely gets boring after a while.  So, I did some thinking during one of my runs and created this recipe!  I also reached out to my fellow AWESOME dietitians about what their best meat-free recipes were, and I got some delicious answers!  For the next 6 weeks, I'll be sharing my new recipes AND theirs on Thursdays.  Get ready for some new, amazing lunch ideas!
Roasted Tomato and Black Bean Quinoa Bowl
Servings: 1
Serving Size: 1 bowl
Ingredients
1/2 cup cooked quinoa
1 cup grape tomatoes, halved
Olive oil spray
Garlic powder
Onion powder
1/2 cup canned low sodium black beans, rinsed
1/4 cup part skim mozzarella cheese, shredded
Directions
Pre-heat oven to 350⁰F.
Cook quinoa according to package.
Half grape tomatoes, add to a sheet pan, spray with olive oil, season with garlic and onion powder and place in oven for 10-15 minutes.
Open canned beans, drain and rinse.
Add cooked quinoa, tomatoes and beans to bowl and mix together.
Add mozzarella cheese on top.  When you heat this meal in the microwave the next day, the cheese will melt on top for a delicious, protein packed meal!
Nutrition Facts
Calories: 420; Fat: 8.5 g; Saturated fat: 3.5 g; Cholesterol: 15 mg; Sodium: 250 mg; Carb: 60 g; Fiber: 13 g; Sugars: 8 g; Protein: 22 g
Check out these yummy meals below for some great lunch options!
Lindsey, of Nutrition To Fit, shared this delicious Freezer to Slow Cooker Lentil Stew.  This is an easily prepared meal that healthy and full of vegetables!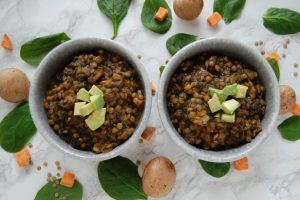 Dixya, of Food, Pleasure & Health, shared her Lunchbox Chickpea Salad.  This is a great meatless recipe that can be whipped up in only 10 minutes and lasts for days!
Haven't tried cauliflower hummus yet?  Then give Kara Lydon's, recipe a try!  She shared this drool-worthy Grilled Cauliflower Hummus Sandwich.
You all know by now that I love my brussies, so I was super excited when One Hungry Bunny's Katie, shared this Warm Brussels Sprouts Salad.  Filled with veggies and protein and topped with a delicious homemade dressing, this recipe is an awesome lunch idea!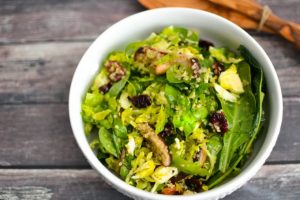 Amy, of Amy Gorin Nutrition, shared her Protein Punch Marinara Spaghetti Squash.  She uses cottage cheese for the protein punch in this meal and it looks delicious!

Liz, of Simple Swaps, shared her Cowboy Salsa Tacos.  These are delicious, vegan and ready in 5 minutes!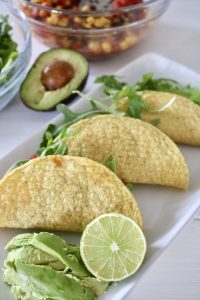 Stay tuned for more recipes over the next few weeks!