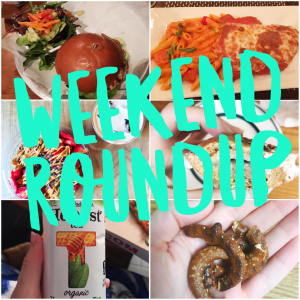 What does a dietitian eat?  Healthy foods all the time?  NO!  Organic foods daily?  NO!  Super small portions?  Nope!  Dietitians are just like you!  We have food days that are super healthy (fruits and veggies at every meal, lean proteins, alcohol free and no sweets!) and we have days that are not as healthy (think chocolate, beer and nachos).  Check out my weekly weekend roundup posts so you can see what my weekend eats are all about!
Friday
Breakfast: 1 cup Siggi's vanilla yogurt, 10 chopped dark chocolate chips, ¼ cup Purely Elizabeth granola, 1 cup of strawberries.  I totally forgot to snap a pic of this and didn't even realize until I went into my phone to upload the picture here!  This breakfast is always delicious and filling and is so easy to throw together when I forget to pack my meals the night before.  Thursday was a late night because I had a Greater New York Dietetic Association event that night and then spontaneously met Bernie and his dad at the Big East Tournament at Madison Square Garden for the final game that night.  We didn't get home until 11:30-12 PM, so I was definitely not making my meals that night.  I came home and went right to bed!
Snack 1:  I was feeling a little hungry between breakfast and lunch, so I snacked on a few extra dark pretzels that I had in my desk.  The other day, I was hungry at work and went to the store for a quick snack.  Since I shopped hungry, which I know I shouldn't do, I ended up buying a big bag of these pretzels and white cheddar skinny pop.  I have to admit, I am someone who needs to have things pre-portioned out because, if not, I have a hard time saying no and only having one serving.   I was doing some extra snacking when I wasn't hungry at work because these bags were easily accessible in my desk.  I've learned my lesson and will either have pre-portioned snacks in my desk or no snacks at all so I don't unconsciously over eat.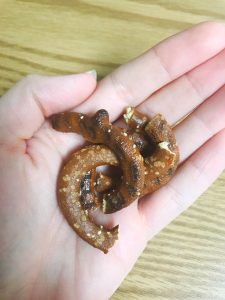 Lunch:  Sons of Thunder poke bowl.  When I started my new job, the girl who was training me introduced me to a bunch of delicious places in that area.  One of them was Sons of Thunder.  They have amazing poke bowls!  I get one with brown rice, ahi tuna, avocado, mixed greens and spicy sauce on the side.  It hits the spot every time!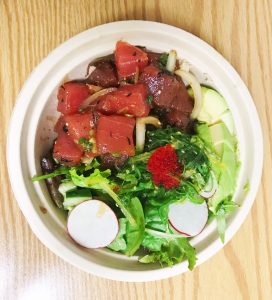 Snack 1:  My easiest on the go snack to grab is a banana with a tablespoon of sunflower seed butter.
Dinner:  Friday Funday in NY was cancelled because it was FREEZING and we were exhausted from being out late the night before.  Instead, I met Bernie at work and we went home to Jersey City together to watch a movie and eat some pizza.  We got a spinach roll and an eggplant parmesan pie.  I had a slice and a half of pizza and half of the spinach roll with some of my new favorite iced tea.  DELICIOUS!  I love pizza Fridays.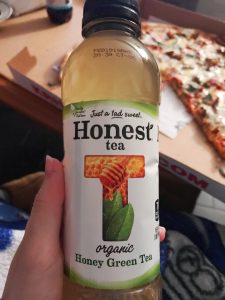 Saturday
Breakfast: I slept in a bit on Saturday morning and woke up to a coffee and a whole wheat everything bagel with veggie cream cheese from Bernie!  YAY!!!  I took off most of the cream cheese (jeez do they pile that stuff on there) and ate half of the bagel before my run.  I am running in my third half marathon in May and training started last week!  My first long run was 5 miles, this Saturday, in the cold.  I did my run and then stopped at the gym for some weight lifting.  I haven't been really following a weight lifting schedule and was able to start that up again this week too and it felt great!
Lunch:  After the gym, I got home and made Bernie and myself some Chai Pumpkin Protein Smoothies.  They are the perfect post workout meal.
Snack 1:  Bernie and I had church at 4 PM and were meeting some friends for a drink before I had dinner in the city with a friend, so I knew I needed a small snack beforehand, because I didn't want to go until 7 PM without eating.  I had a 100 calorie Zing Dark Chocolate Peanut Butter bar and it was amazing!  This was a sample I had gotten when I went to the food and nutrition conference in November and I haven't tried it yet.  I'm so glad I did, I will DEFINITELY be buying more!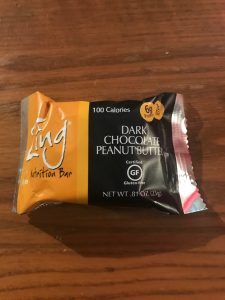 Dinner:  A good friend of mine is moving to Miami, so I met up with him for food before he went.  I got a turkey burger with a side salad and we split some fries.  I removed half of the bun, since I wanted to indulge in the fries, but didn't want to over do it.  After dinner, I went back to Jersey and met up our friends for dueling pianos at House of Que in Hoboken.  It was so fun!  I had a drink with dinner and another drink when I met up with our friends after dinner.  I had to be up early on Sunday for a spin class, so I didn't want to over do it with the drinking.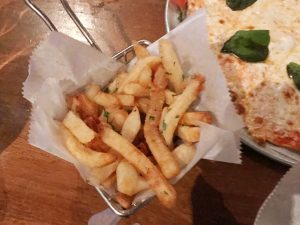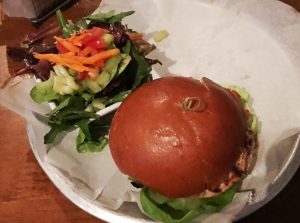 Sunday
Breakfast:  Sunday was a day full of spinning.  I started it off with a Show Tunes themed spin class at Hoboken CycleBar, with two of my friends.  It was the best!  Afterwards, I got breakfast with one of my them at Shaka Bowl in Hoboken.  I made my own acai bowl with, acai base, granola, strawberries and cacao nibs and had a cold brew coffee (you may have seen this on my insta) and it was so delicious!  I can't wait to go back!!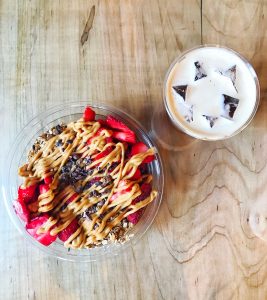 Snack 1:  I was scheduled to cycle at Cycle For Survival in NYC with the Greater New York Dietetic Association.  Upon my arrival, I got a banana and ate half since I knew I was going to feel hungry soon, but didn't want to eat too much because I was about to exercise.  I hopped on the bike at two and cycled for 50 minutes.
Lunch:  They had free food at the event, so lunch was a turkey sandwich with mustard.  Prior to the event, I was scheduled to cycle once, but someone had to pull out of the event because of an injury, so I volunteered to cycle again at 4 PM.  The sandwich was just what I needed between both cycle times.  A good mix of carbs and protein to fuel me before my second ride.
Dinner:  After the event, we went to an italian restaurant where I got my fave, chicken parm, and some pasta with vodka sauce.  I also had a bit of bread and olive oil.  I really needed/wanted to load up on some carbs after all the cardio I did that day and this meal was so delicious!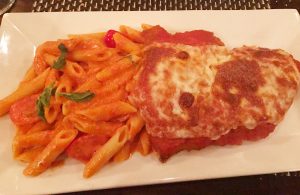 There you have it!  A weekend full of dietitian's eats!