The holidays are here and if you haven't gotten a gift for the chef in your life or you love to cook and are not sure what you want, I've got just the thing for you! With the exception of the Popcorn Maker, here are some gifts I've received from people who know my love of cooking and let me just tell you, I know the BEST gift buyers. Read on for the top 10 small kitchen appliances for any chef.
KitchenAid Stand Mixer
Of course, I have to start the list off with my favorite kitchen appliance, the KitchenAid Stand Mixer! The stand mixer is so versatile AND allows me to multitask (my favorite thing to do). The one I have featured here comes with a spiral dough hook, flat beater and steel wire whip. I love using the mixer to make cakes, cookies, muffins and homemade soft pretzels. It's also easy to clean up because it gives me the ability to use one bowl for all my mixing needs and it allows you to add ingredients in, while it's mixing. The stand mixer also has the power hub, which allows you to add different attachments. If you visit their website, you can find every attachment, from a pasta roller to a grain mill to a juice and sauce attachment. It also comes in many different colors, making it the perfect addition to any kitchen!
Who doesn't love a delicious smoothie to start their day? Last year, for my birthday, I got a NutriBullet Pro, and it made my morning smoothies so much better. The NutriBullet comes with multiple size cups and different lids, like the flip top lid, which makes taking smoothies on the go so much easier. I've put everything in my smoothies from frozen fruit to spinach and kale, and the NutriBullet grinds them down to the perfect consistency in seconds. Besides making smoothies, I use the Nutribullet for grinding oats to make oat flour, and make frozen yogurt or puree vegetables too!
The first time I ever used an immersion blender was in my Dietetic Internship with the cooks at the Wilmington VA. During my foodservice rotation, I got loads of cooking experience, thanks to the wonderful chefs, and that is where my love for cooking began! I remember being fascinated by the blender because it was so tiny, but could puree things with such ease and after that, I just HAD to have one! I enjoy using the immersion blender to make butternut squash soup, as it blends the squash up just right so there are no chunks. If you love making soups, make your own baby food or have someone at home who may need to eat a pureed diet as a medical necessity, this hand blender is a would be a perfect addition to your kitchen.
This spiralizer is my new favorite tool! Whether you're feeling the need to substitute your pasta with something or just want to try something new, this spiralizer is for you. It comes with multiple blades for all different types of beautiful spirals and it holds the food perfectly in place as it slices away. This specific one also has suction cups so it sticks to your counter and won't move as you create fun, spirally food. If you haven't seen my previous post on zucchini noodles, go there now and try them out. You may never go back to having plain old zucchini slices for dinner again!
Slow Cooker
Who doesn't love having a slow cooker? I love it so much, I have two! I started off my slow cooker obsession with a cute little crock pot I got as an apartment warming gift and have now graduated to using this beautiful All Clad Slow Cooker. Plus it's dishwasher safe, making for easy clean up. I have used my slow cooker for everything from baked oatmeal, to glazed pork loin to making delicious stews and chili. My favorite part about this slow cooker is that it allows me to pre-program the timing and switches to warm when it's complete, so I can do other things without worrying about forgetting to switch the temperature at a specific time. I also love having two because I can prep multiple delicious meals at one time.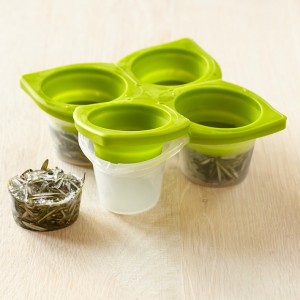 Last year we moved into an apartment with a rooftop deck, allowing us to finally have our own garden. Of course we had multiple veggies growing, like tomatoes and peppers, but we also had a specific section just for herbs. While I love seasoning my food with different herbs and spices, you can only use so many at a time and I learned very quickly that they grow fast. This freezer tray is perfect for keeping your herbs fresh and ready to go at a moments notice.
A few Christmases ago, I got this amazing personal pie maker. While I love cooking all types of foods, baking is definitely my favorite thing to do. However, sometimes it just doesn't make sense to make an entire pie, especially when you know only a few slices will be eaten and then the rest of the pie will be tempting you for the remainder of the week. The pie maker is the perfect solution for this, because instead of making a full pie, you can make a few single servings of pie for you and your guests. I also got this Mini Pie book, which has many delicious sweet and savory pie recipes.
After a few years of watching me print out recipes, just to destroy them in the cooking process, or having to clean off my phone with antibacterial wipes because it was full of greasy fingerprints, my boyfriend got me this chef stand for all of my recipe needs. This props my ipad up at a perfect angle and allows me to have my recipes right in front of me while I cook. Plus it comes with a stylus so I don't have to keep touching the screen with my dirty fingers! It's the perfect addition to any chef's kitchen, just make sure to whip down the stylus well after each use.
Air Crazy Hot Air Popcorn Popper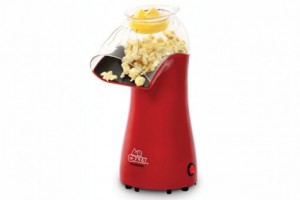 A few years ago, on a whim, I purchased this pop corn maker and it was one of the best decisions I ever made. When I was younger, my uncle John, who was an awesome chef, made us delicious homemade popcorn when we would visit him in North Carolina. After many tries, and many burned pots, I gave up on attempting to make my own popcorn. Then I found this popcorn maker! Now I can make popcorn whenever I want and it comes out absolutely perfect. When you pop your own popcorn, it allows you do to so many different things to flavor it, like drizzling dark chocolate on top for a sweet treat or adding old bay seasoning for a little spice. I'm not a huge fan of the taste of butter, so I usually add some olive oil and a dash salt and pepper and viola, delicious popcorn, in just minutes.
Digital Glass Kitchen Scale and Perfect Bake Scale and App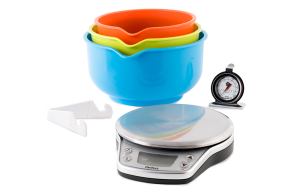 I am extremely particular about measuring my food and I follow recipes to a tee. I'll blame this on my dietetic roots and my type A personality. Having a digital scale in the kitchen for all my measuring needs is the best! In addition to this, if you love baking, like me, I also have to recommend the Perfect Bake scale and app. This amazing scale measures the ingredients as you pour, so no more dirtying a million utensils, bowls and measuring cups and spoons! Plus the app comes recipes for any type of baker; check some of them out here!
Please note, I did not receive reimbursement for any of these product reviews and all opinions are my own.