Peanut Butter Chocolate Banana Protein Smoothie
Ingredient
1 cup unsweetened vanilla almond milk
2 scoops EAS Lean 15 Chocolate Fudge Protein Powder
1 tablespoon natural peanut butter
1 6-inch banana
Handful of ice
Directions
Add all ingredients to blender and blend until smooth.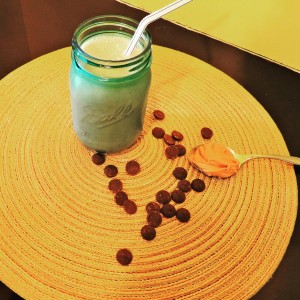 I'm a morning person, so most of my mornings start with a workout at the gym before I leave for work. I get up at 4:30 AM, get to the gym by 5 and usually spend about 1 hour and 15 minutes there. This leaves me with about 45 minutes to get myself ready and out the door. I don't want to get up any earlier and I can't cut my routine any shorter, so I'm always looking for easy ways to throw breakfast together to eat while I'm getting ready or take with me out the door. Thank god I'm a smoothie lover (and that I got a NutriBullet for my last birthday) because they are perfect for people on the go, like me!
Since peanut butter and chocolate are my two favorite things to eat, this is my go to smoothie! The NutriBullet is great to use for smoothies, because it blends everything so perfectly. I always start with pouring the almond milk into the cup first, so that the other ingredients don't stick to the bottom. I'm a huge fan of unsweetened vanilla almond milk, it's a great liquid to add to my smoothies without adding a bunch of calories, especially if I'm getting my protein from other sources. For the protein powder, you can use any chocolate flavored one that you like. I use EAS Lean 15 because I enjoy the taste, it's low in calories and sugar and whey is high quality protein. For some additional protein to rebuild my muscles, I use peanut butter. I always choose natural peanut butter because the only ingredients are peanuts and sea salt. Finally, I add a banana in as my serving of fruit and for some additional carbohydrates to fuel my body post workout. I always add a handful of ice to make it a bit more frothy.
This smoothie is a delicious way to get a good, quick mix of carbs, protein and fat after my morning workout!
Nutrition Facts
Calories: 320; Fat: 11.89 g; Carbohydrate: 38.57 g; Protein: 21.1 g