What does a dietitian eat?  Healthy foods all the time?  NO!  Organic foods daily?  NO!  Super small portions?  Nope!  Dietitians are just like you!  We have food days that are super healthy (fruits and veggies at every meal, lean proteins, alcohol free and no sweets!) and we have days that are not as healthy (think chocolate, beer and nachos).  Check out my weekly weekend roundup posts so you can see what my weekend eats are all about!
Friday
Breakfast: I woke up Friday and went to the gym to run and lift.  It was super cold last week and it snowed, so I had to run on the treadmill a few days because of the ice.  I used to be a treadmill only runner, and then I tried outdoor running and I've never looked back.  Running on the treadmill, even if it was only for 2 or 3 days, was the worst.  I'm so happy that this week will have milder temperatures so I can run outside again.  After my workout, I came home and whipped up a Chai Pumpkin Protein Smoothie and chopped up a bunch of veggies and threw them in the oven to roast for lunch.  I got home pretty late on Thursday night.  I had a dietitian happy hour and met Bernie at his job for their happy hour after, so when I got home, I went straight to bed.  It was so much easier for me to wake up early, go to the gym and make lunch.  I don't think I could be more of a morning person if I tried.
Lunch:  Lunch was pretty random on Friday.  We had a broccoli, sweet potatoes and Brussels sprouts at home, so I decided to toss them in olive oil, season them and roast them for a veggie packed lunch.  Then I added a hardboiled egg and 2 tablespoons of everything hummus for my protein.  Friday was a super busy day for me at work, so I ate the egg around 11 AM and then had the veggies dipped in hummus around 1 PM.  The veggies and hummus were AMAZING.  I cannot wait to make this lunch again.  SO DELICIOUS.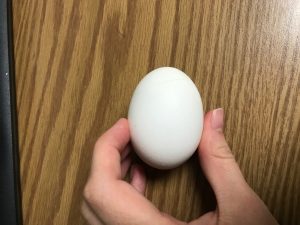 Snack 1:  I needed a quick snack on the go, so Kashi's Dark Chocolate and Cinnamon Pecan bar was my go to!  This was my first time trying this flavor and, like all of Kashi's flavors, it was delish!

Snack 2:  I drove to Long Island Friday night after work and knew I would get hungry on the way, so I packed myself a few cups of skinny pop cheddar popcorn.
Dinner:  Since I was on Long Island, it was pizza Friday!  I had 2 slices of Sicilian pizza and caught up on some work and laundry before hopping in to bed.
Saturday
Breakfast: I had a bunch of emails and laundry to get through on Saturday, so I woke up a little early and had Honey Nut Cheerios Medley Crunch with almond milk and strawberries before my long run.  Since half marathon training has started, my long runs are always on Saturdays.  This Saturday was the first time I've run 6 miles in a LONG TIME.  It felt great!  As the runs get longer, I will need to eat a little something during them to stay fueled up.  I will be trying some new things this time around and I can't wait to tell you all about them!  Breakfast is not pictured since I woke up super hungry and scarfed it down before I remembered!
Snack 1:  After lunch, I had a quick snack of triscuits and hummus and hopped in the shower.

Lunch:  Bernie came in on the train around 12 PM, so I picked him up at the train and had some lunch after we got home.  My mom had some Pad Thai leftover, so I had a plate of that.  The place we usually get Pad Thai from in Jersey City hasn't tasted as good lately, so it has been a while since I've had my fave Thai dish.  It hit the spot!

Snack 2: Iced coffee with skim milk and 1 packet of sugar before we got pedicures.  A new place opened in my hometown and it is amazing!  I can't wait for them to get iced coffee and cold brew on tap.  I have a feeling I'll be going here before I get my pedicures every time I'm home.  It's so cute inside and the coffee was awesome!
 Dinner:  We went to a Saint Patrick's Day dance at my church on Saturday night.  It was a great time with my best friends, Gina and Jenn, and my fam.  We spent the night dancing and laughing and we had some pretty yummy food.  Since the celebration was a mix of Saint Patrick's Day and the feast of Saint Joseph, there was Irish AND Italian food (YUMMMOOO).  I had corned beef (my fave Irish dish) with mustard on rye bread (my fave bread), eggplant rolatini, sausage and peppers, penne ala vodka and salad.  The food was delicious.  Then I spent the rest of the night getting some good cardio in with all that dancing.  For dessert, I had a small chocolate covered cannoli – the best!
Sunday
Breakfast:  Sunday we had a family get together to celebrate the lives of those who have passed on, on my mom's side of the family.  We stayed up super late on Saturday, so it was a little hard to get up on Sunday morning.  I tried to do an at home workout from Fitnessblender.com, but I got halfway through and my body was just telling me it was tired.  So I went on a power walk around my parent's neighborhood instead.  After that, I had half an everything bagel with peanut butter and some strawberries.
Lunch:  Lunch was two slices of American hero and some potato salad.  Prior to the food being served, I did munch on a few chips.  After the food, I also had 2 desserts, a chocolate covered oreo and this amazing granola bar my aunt made.  My aunt Di is the most amazing baker, so I ALWAYS have to have her desserts at family events.  SO DELICIOUS EVERY TIME.
Dinner:  I was still super full from lunch, so dinner was half of a Sicilian slice left over from Friday night.
There you have it!  A weekend full of dietitian's eats!