What does a dietitian eat?  Healthy foods all the time?  NO!  Organic foods daily?  NO!  Super small portions?  Nope!  Dietitians are just like you!  We have food days that are super healthy (fruits and veggies at every meal, lean proteins, alcohol free and no sweets!) and we have days that are not as healthy (think chocolate, beer and nachos).  I've decided to start doing weekly weekend round up posts so you can see what my weekend eats are all about!
Friday
Breakfast: I started my day off with a delicious bowl of oatmeal filled with sunflower seed butter, strawberries and a few dark chocolate chips, plus a cup of coffee with skim milk and one teaspoon of sugar.  I like all my meals to include multiple food groups (proteins, carbohydrates, healthy fats and fruits or veggies).  Breakfast is one of the most important meals I eat because I usually exercise in the morning, so I need a hearty meal to start off my day and keep me full for a few hours until lunch or a mid morning snack.  This Friday, I took the day off because I was still recuperating from my Wednesday and Thursday workouts and I knew I would be walking a lot that night (more on that later).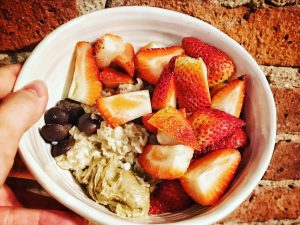 Snack: Strawberries!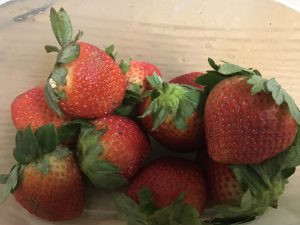 Lunch:  My new favorite thing to eat on weekdays are turkey sandwiches on multigrain bread with lettuce and mashed avocado.  It's delicious and keeps me full for hours because of all the fiber, protein and healthy fats it provides me with.  I use Arnold's Healthy Multi-Grain bread.  Two slices of bread provide you with 7 grams of fiber and 10 grams of protein and the first ingredient is whole wheat flour.  I pile the bread with 3 oz of lean turkey, a few romaine lettuce leaves and half an avocado mashed up with garlic and onion powder.
Snack:  Enlightened Sriracha crisps.  These crisps are an easy snack on the go.  They are so yummy and so much healthier then potato chips! 100 calories, 7 grams of protein and 5 grams of fiber.  Amazing!
Dinner:  Since my boyfriend, Bernie, and I now both work in NYC, we decided that Fridays would be Friday Fundays.  Each Friday Funday, we explore something new in the city.  Usually I get off of work before Bernie, but this Friday he was working from home, so he met me near my office.  We had reservations to go to a Thai place, but as we were walking there we spotted a cute Mexican place instead and changed our plans.  I am so happy we did because the food did not disappoint and I was CRAVING some tortilla chips.  We got one of the specials, shrimp and steak tostadas and the enchilada Suizas.  Delicious!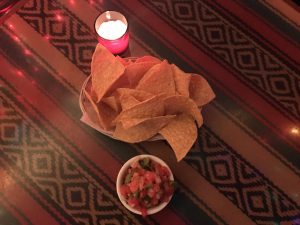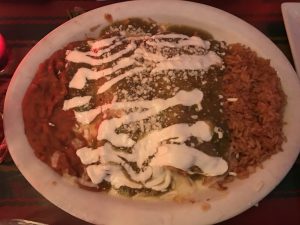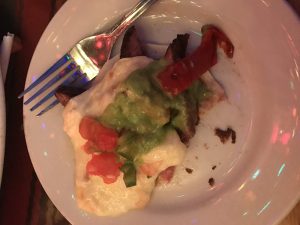 Dessert:  After dinner, we decided to head downtown to get some hot chocolate at a place I had seen on Instagram.  Unfortunately, when we got there, they were out of hot chocolate!  So we bought a chocolate chip cookie and they gave us a free pretzel croissant because they felt bad.  On our walk home, we noticed L.A. Burdick, and decided to pop in there for hot chocolate instead.  It was like fate that they were out of hot chocolate at the first place, because the second place we tried had the best hot chocolate I've ever had!  Dark chocolate and super thick.  YUM!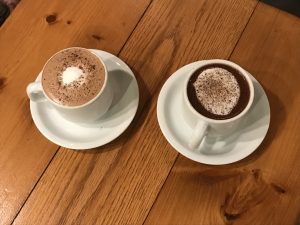 Saturday
Breakfast: On weekends, I usually wake up hungry, so I like to eat first and then get my workout in for the day.  We slept in a bit on Saturday and decided to have egg scrambles with the pretzel croissant for breakfast.  For the scramble, I sautéed red onion and pepper and added one egg and some shredded cheddar cheese.  After breakfast I went for a 5 mile run on the bike path near my house.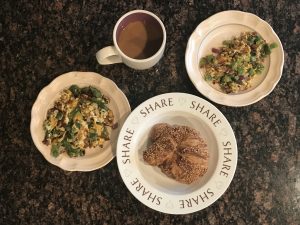 Snack:  Enlightened Sweet Cinnamon crisps.
Lunch:  One of my favorite places to go when I am home on Long Island is La Bottega.  Their salads and panini are awesome and their lunch deal is on point.  I got their Insalata con Fungi and their Trieste panini.  The salad was filled with mushrooms, mozzarella cheese, roasted red peppers and sunflower seeds and the panini had grilled chicken, olive paste, zucchini and mozzarella cheese.  They serve huge portions, so it's great to take home for lunch the next day (which is exactly what I did).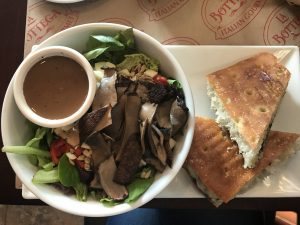 Dinner:  PIZZA.  If you're from NY, you know we have the best pizza, so almost every time I go home I try to get my hands on some.  I'm a huge fan of Sicilian pizza, specifically the corner slices.  Bernie, my best friend Gina and I ordered pizza in and watched a movie.  I had one slice of delicious pizza and a piece of the spinach and ricotta roll we had split three ways.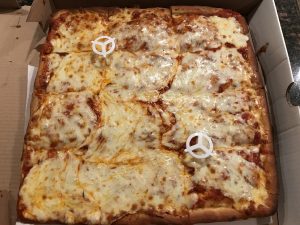 Sunday – I forgot to take pictures of most of my food Sunday because I was too busy chowing down!
Breakfast: Sunday breakfast with my parents is usually bagels and eggs.  I ate half of a whole wheat everything bagel and an egg over easy.  After breakfast, I got a 5 mile run in.
Lunch: My leftover sandwich from Saturday and a medium iced coffee from Starbucks.
Snacks:  Since it was game day, we had a few snacks during the game.  I found Simply Enjoy pumpkin hummus on sale at Stop and Shop and had to buy it.  I'm so glad I did because it did not disappoint!  I had a bit of that with some wheat thins.  My mom also made her taco dip and I had about a quarter cup of dip with some tortilla chips.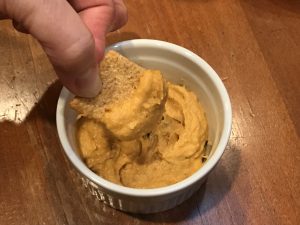 Dinner:  Dinner was whole wheat quesadillas.  Quesadillas are such an easy lunch or dinner to whip up.  Just take one whole wheat wrap, sprinkle one side with your choice of cheese, add grilled chicken and sautéed onions and peppers and then add some more cheese on top and pop into the oven for 10 minutes.
There ya have it!  A weekend full of delicious eats with a dietitian.  Stay tuned for next weekend's choices.
Disclaimer:  The Enlightened products I discussed in this post were free samples from Enlightened.  As always, all opinions are my own.