Meatless lunch recipe round up 2 is here, along with an easy recipe from yours truly 🙂
I had egg salad for the first time last year at my old job.  I had forgotten to bring lunch and the only thing that looked appetizing to me was an egg salad sandwich.  I must point out that this is shocking, because I've always steered clear of egg salad.  Story time!  When I was in elementary school, a girl I was friends with used to have and egg salad sandwich EVERY. DAY. and, honestly, it just always looked (and smelled) so gross.  Cue me, swearing off egg salad forever.  Until…that one day at work.
I ended up liking it so much, that it became one of my go to sandwiches at my job when I would forget lunch.  Since I've moved on, job wise, I no longer have access to those yummy sandies, but I do have the option to make my own!  And so this Smoked Avocado and Egg Salad was created.  I used avocado to give this salad a creamy texture instead of mayonnaise, because, let's be honest, avo is soooo much tastier than mayo (and healthier too!).  Plus, I added some smoked paprika to give it a nice smokey flavor.  With healthy fats AND protein, this tasty lunch is sure to keep you satisfied until afternoon snack time!  Have it with a side of your favorite crackers or between two slices of your fave whole wheat bread!
Smoked Avocado and Egg Salad
Servings: 1
Ingredients
1 large hard boiled egg
1/2 avocado
1/4 teaspoon smoked paprika
Directions
Slice hard boiled egg
Slice the avocado into 1/2 inch pieces
Add avocado and egg to a bowl and add smoked paprika
Gently mix together until combined
Serve on 2 slices of whole wheat bread or with your favorite crackers.
Nutrition Facts
Calories: 195; Fat: 16.5 g; Saturated fat: 3 g; Cholesterol: 185 mg; Sodium: 75 mg; Carb: 6.5 g; Fiber: 5 g; Sugars: 0 g; Protein: 7.5 g
In addition to this, I have six more meatless recipes from some amazing dietitians to share!
Lindsey, from Nutrition To Fit, shared her Polenta Panzanella Salad with homemade vinaigrette.  If you're looking to shake up your daily salads, this is the recipe for you!  Lindsey suggests adding some fresh mozzarella or cannellini beans for an extra protein punch!
Kelli, from Hungry Hobby, shared her Tzatziki Tuna Pita.  Getting tired of the same old tuna sandwich?  Whip these up yummy pitas instead!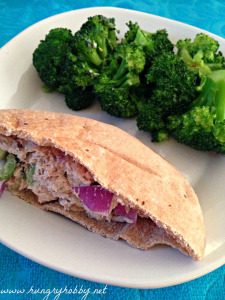 Pushpa Soundararajan shared her Low Potassium Savory Pasta Primavera.  This is a delicious meatless meal that Pushpa says you can add additional veggies to (like asparagus or spinach) and tastes good without being warmed up!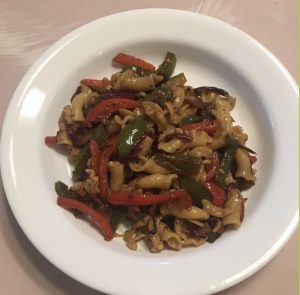 Erica Julson shared her Quinoa Collard Green Wraps.  Replace your tortilla wraps with blanched collard greens in this awesome protein AND veggie packed meal!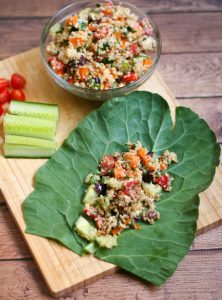 Jessica, from Nutritioulicious, shared her Grilled Avocados Stuffed with Corn and Black Bean Salsa.  Try something new and GRILL an avocado!  She added yummy black beans for protein and suggests that you eat something else with this or pile a bit more of the salsa on to help keep you full and satisfied.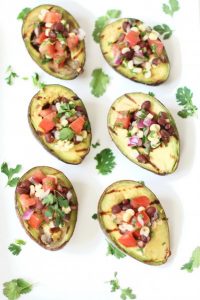 Danielle, from The Every Kitchen shared her Golden Beet Couscous Salad.  Her salad has a simple dressing to help the flavors of the delicious toppings shine through!  Plus, it's super pretty which makes lunch that much more awesome.
Stay tuned for next week's recipes!